Just a Drummer in a Rock n' Roll Band
I came across an interesting little story about a drummer in England named Gordy Marshall who struggled for a dozen years to try and break into the music scene.  This was back in the 80's & 90's.  He auditioned to be a touring drummer for a number of big acts, but always came in second or third place.  He did get a little side job of playing a drum during soccer matches on Saturdays at 2 pm at Wembley stadium outside of London.  He'd roam the sidelines playing the snare drum slung round his neck,  whipping up the enthusiasm for soccer fans, as if they needed much encouragement anyway!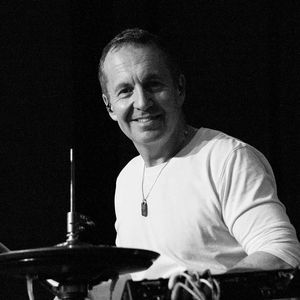 The Moody Blues were on a search for a drummer as a replacement on tour for their regular drummer who had been injured and needed time to recover.  Gordy's agent, Sarah, got him an audition, but he felt it was really going to be another outside chance that he'd ever get the call back.  Yet that very night, he got the phone call that changed his life, since not only did he get that 7-week temp job on the drums, he would end up working with the Moody Blues for the next 21 years as their touring drummer and percussionist.     
In the first few weeks of this new gig, however, he sensed he was still on a kind of probationary period.  The Moody Blues were led by Justin Hayward, a known perfectionist, and they liked their live music to sound just like their original recordings.  So he had a steep learning curve as they rehearsed every day, Monday through Friday for six weeks, all in preparation for their 1991 tour. Nights in White Satin, The Story in Your Eyes, Question, Tuesday Afternoon, and I'm Just a Singer in a Rock 'n Roll Band: he furiously memorized each drum lick and steadfastly tried to fit in with the band.  But, as a precaution, he kept his Saturday side job playing the snare at Wembley, though he kept that a secret from the other Moody Blues musicians, not sure that they'd approve. Near the end of the rehearsals, they informed him that he was needed that coming Saturday at 2 pm for a special gig.  Uh, he stammered, and hemmed and hawed.  He might not be available, he told them.  They needed to know why not, and could he get out of it, and actually they began insisting that he had to get out of it as he was needed by the band.     
Justin Hayward took him over to the phone and said they'd call up the woman who was lining things up that Saturday to learn the actual details of the special gig.  Into the phone, Justin said, "Hello Sarah," and then, as Gordy listened in, he could hear her say that she was booking the Moody Blues to sing the English national anthem at Wembley stadium at 2 pm just ahead of that day's soccer match.  Gordy recognized the voice as being the very same Sarah that was his agent and had originally got him the drumming job at Wembley!  Justin Hayward hung up the phone and said to Gordy, "that's why we need you there, with a snare drum slung around your neck to accompany us while we sing the anthem."  Poor Gordy just stood there, jaw slacked open.  It was a fantastic coincidence and the jig was up as Gordy had to come clean about his side job, which meant he'd already be at the stadium anyway.  But after that Saturday, he relinquished his side job, because he was now assured that he was indeed a full-time Moody Blues drummer.     
I love learning about fantastic coincidences like that.  I tend not to be one of those Christians who think God sort of moves chess pieces around our board of life to get us to move here, or slide there.  But I do think the amazing, wild, and not-always-predictable grace of God washes over us and gives us coincidences (you could also call them grace-notes, or serendipity) that help us see the hand of God at work all around us.  You do need to use the eyes of faith to see such beauty, however.  You do need to be open to the blowing of the Spirit in, with, and under the ordinary and extraordinary moments of our lives.  Which then helps you express your gratitude for every gift, grace, and chance event that blesses your life.       
See you in church – a great place to keep hearing about God's grace!  
Pastor Josh 
Categories:
Ponderings